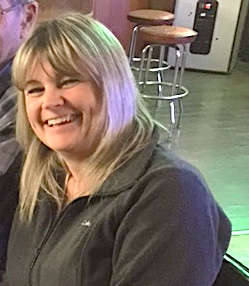 Hello Everyone.
Glad you stopped by.
My name is Kellie and I am a wife, mother of 3 grown children and one dog. My husband and I farm as well as run this everyday online business. Well, I should say he farms and I run the online business he is not too interested in the crafting industry so he leaves that all up to me.
First of all I want you to know that we are a Secure Site by GeoTrust.
How I Got Started:
Magnolia stamps is the company that I fell in love with and as my passion for the adorable little cuties with out a mouth kept growing I decided to start selling them. I started out selling on eBay and with that it did not take long before I became a Power Seller.
As the success grew I decided to take it a step further and open up an online webstore in addition to my eBay store. So, with that idea The Rubber Buggy was born and we are now in year 5 of business on the website and year 7 on eBay.
It is our hope to bring you the latest and greatest in rubber stamping and scrapbooking supplies being offered. We also hope to look a little deeper and look into some fabulous companies that are overseas and bring them to you here in the USA. You can always email me from the contact us page with any great companies that you know about and would like us to check out.
We pride ourselves on Customer Service and Hope you find your time spent with us a happy one. Below you will find some of our latest feedback from here and Ebay.
Thank You for visiting us!
Kellie Hill
EBay
Very happy with the paper. Would purchase from this seller again.
Buyer:
Sep-17-13 07:16
Graphic 45 - French Country 12 x 12 PROVANCE 2 Sheets- The Rubber Buggy (#251275659489)
US $1.89
View Item
Very happy with the item. Would purchase from this seller again.
Buyer:
Sep-17-13 07:16
Graphic 45 - French Country CARDSTOCK FLOWERS- The Rubber Buggy (#251275600852)
US $3.99
View Item
Very happy with the paper. Would purchase from this seller again.
Buyer:
Sep-17-13 07:16
Graphic 45 - French Country 12 x 12 MONTAGE 2 Sheets- The Rubber Buggy (#251275659701)
US $1.89
View Item
Very happy with the paper. Would purchase from this seller again.
Buyer:
Sep-17-13 07:16
Graphic 45 - French Country 12 x 12 BON APPETIT 2 Sheets- The Rubber Buggy (#251275658829)
US $1.89
View Item
Wow fast delivery thank you....
Buyer:
Sep-16-13 19:50
Bo Bunny KEY LIME - 12 X 12 CHIPBOARD - The Rubber Buggy (#261217818393)
US $4.49
View Item
Great ebayer!!! Highly recommend!!! AAAAA+++++++
Buyer:
Sep-15-13 08:11
Magnolia Stamps HULA HULA TILDA -Sea Breeze- The Rubber Buggy - 3709 (#261280541630)
US $13.99
View Item
Great ebayer!!! Highly recommend!!! AAAAA+++++++
Buyer:
Sep-15-13 08:08
Magnolia Stamps GONE FISHING TILDA -Sea Breeze- The Rubber Buggy - 3704 (#261253738235)
US $13.99
View Item
Great seller! I highly recommend! Love it!
Buyer:
Sep-12-13 14:26
MAGNOLIA RUBBER STAMP YOGA TILDA FROM WINNER TAKES IT ALL COLLECTION 2011 (#251078324194)
US $12.99
View Item
Great service thank you .
Buyer:
Sep-12-13 13:11
Magnolia Stamps 3630 VINTAGE BRIDAL COUPLE -Special Moments- The Rubber Buggy (#251286825941)